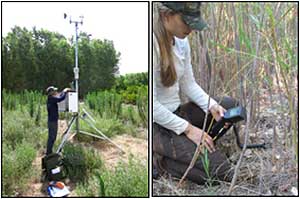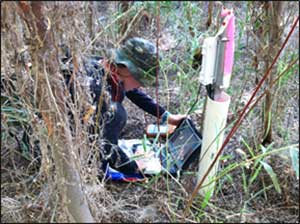 Soil Moisture and Irrigation Monitoring,
Palo Verde Ecological Reserve
Location
Palo Verde Ecological Reserve
Blythe, California
Client
Bureau of Reclamation, Lower Colorado Regional Office
Project Description
Successful implementation of the Lower Colorado River Multi-species Conservation Program relies on irrigation with a limited water supply to maintain vegetation and provide moist soils on over 7,000 acres.
GSA is implementing a 75-acre pilot project to monitor water distribution and trends using both automated and manual methods and assess the effects of soil and vegetation characteristics. Irrigation efficiency will be modeled using these data to determine if alternate irrigation schematics could increase efficiency and decrease water requirements.
Finally, program-wide monitoring recommendations will be developed for managers to determine if irrigation is effective in meeting vegetation and avian habitat requirements.
Project Highlights
Field infiltration testing
Laboratory moisture retention analysis
Automated and manual irrigation, soil moisture, and inundation monitoring
Spatial analysis of soil moisture maintenance and irrigation application
Irrigation modeling
Development of program-wide monitoring recommendations