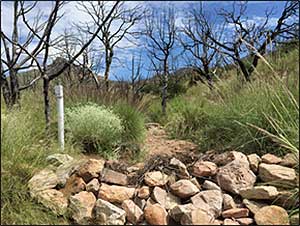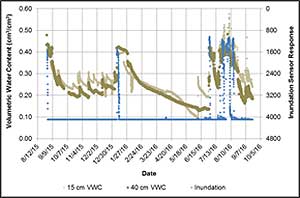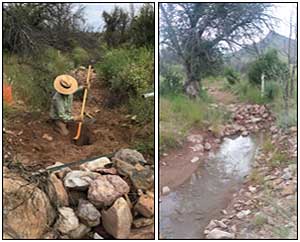 Soil Moisture and Inundation Monitoring at Grade Control Structures in Ephemeral Streams
Location
Chiricahua National Monument, Arizona
Client
Sky Island Alliance
Project Description
GSA scientists conducted a field study in burned and unburned watersheds to monitor the effects of grade control structures (GCS) on increasing soil moisture retention and duration of ponding in ephemeral streams.
Eight soil moisture and inundation monitoring stations were installed upstream of GCS within ephemeral drainages of a burned and unburned watershed. Sedimentation stakes were installed to monitor sediment deposition and erosion, and flowtography cameras, shallow groundwater piezometers, and rain gauges provided supplementary data.
Study results indicated that GCS help capture sediment, particularly in the burned watershed. Inundation duration and soil moisture trends were influenced by factors other than GCS presence, such as confining layers, depth of alluvium, and channel confluences. GCS attenuated flood pulses lower in the watershed, and soil moisture behind GCS was often elevated for weeks following large rainfall events.
Project Highlights
Ecosystem resilience to fire and climate change
Automated inundation and soil moisture monitoring
Grade control structure impacts
Ephemeral streamflow monitoring