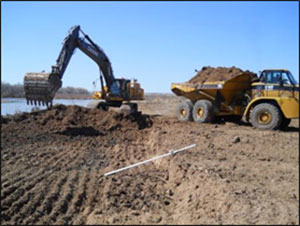 Middle Rio Grande Habitat Restoration, NM
Location
Middle Rio Grande, New Mexico
Client
Albuquerque District Corps of Engineers
Project Description
GSA ecologists have supported the Albuquerque District with Middle Rio Grande habitat restoration since 2004. These projects span more than 22-river miles and approximately 2,500 acres of floodplain habitat restoration.
Middle Rio Grande Restoration has involved removing non-native vegetation, restoring native forest, constructing willow swales and aquatic habitats, and improving river channel and floodplain connectivity.
We support the Corps with "turn-key" habitat restoration technical support services including site assessments, restoration design, project implementation support and oversight, monitoring design and implementation, and research and adaptive management.
Project Highlights
Soil and groundwater assessments
Vegetation inventories and mapping
Willow wetland and floodplain habitat design
Revegetation plans
Noxious weed mapping and management plan
Monitoring and adaptive management