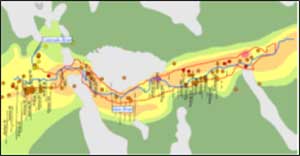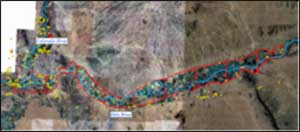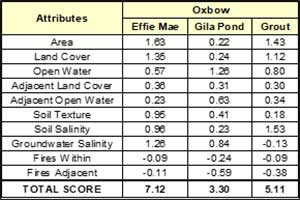 Assessment of Riparian Restoration Potential on the Lower Gila River
Location
Lower Gila River, Arizona
Client
The Nature Conservancy
Project Description
GSA completed an assessment of the potential for riparian restoration projects in over 200,000 acres of the historic Gila River floodplain upriver of Yuma, Arizona.
Existing restoration projects in the area were reviewed to determine lessons learned and identify challenges and opportunities. Primary limitations were identified as groundwater depth, groundwater and soil salinity, and prevalence of wildfires.
Ecologically-relevant GIS data for the study area were compiled, including existing vegetation and open water, soil texture and salinity, groundwater salinity, fire frequency and size, adjacent land use, and site access. A Multiple Accounts Analysis (MAA) was developed to rank river reaches for restoration feasibility. Specific areas of interest, such as historic restoration sites, remnant native vegetation, and historic oxbows were then assessed and ranked based on the MAA. A list of sites was recommended for on-the-ground assessment.
Project Highlights
Literature review of restoration challenges and lessons learned in the project area
Historic GIS data accumulation and analysis
Geodatabase development
Multiple accounts analysis to rank restoration potential on reach and sub-reach scales