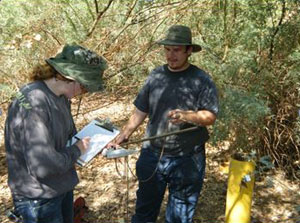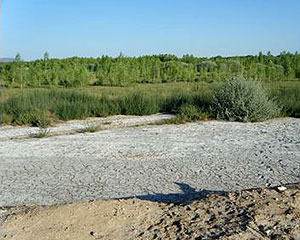 Groundwater and Soil Salinity Monitoring Network for Long-term Irrigation and Salt Management
Location
Lower Colorado River
Arizona and California
Client
US Department of the Interior, Bureau of Reclamation, Boulder City, Nevada
Project Description
GSA is assessing soil and groundwater salinity in riparian habitat restoration areas in the Lower Colorado River, and developing mitigation strategies to ensure long-term vegetation success.
Soil salinity and texture, groundwater salinity, and groundwater depth and flow rates were determined at three Lower Colorado River Multi-species Conservation Program habitat creation sites. A salt balance model was calibrated to observed conditions, and used to evaluate the effects of alternate irrigation and groundwater management scenarios on soil and groundwater salinity.
Model results indicated that irrigation alone could be effective in maintaining acceptable salinity levels, with water requirements dictated by soil texture, aquifer properties, and irrigation water salinity. Winter flooding and groundwater pumping can be used to improve salinity mitigation at less favorable sites.
Project Highlights
Literature review and synthesis
Soil and groundwater monitoring
Soil and aquifer salinity modeling
Salinity mitigation strategy assessment